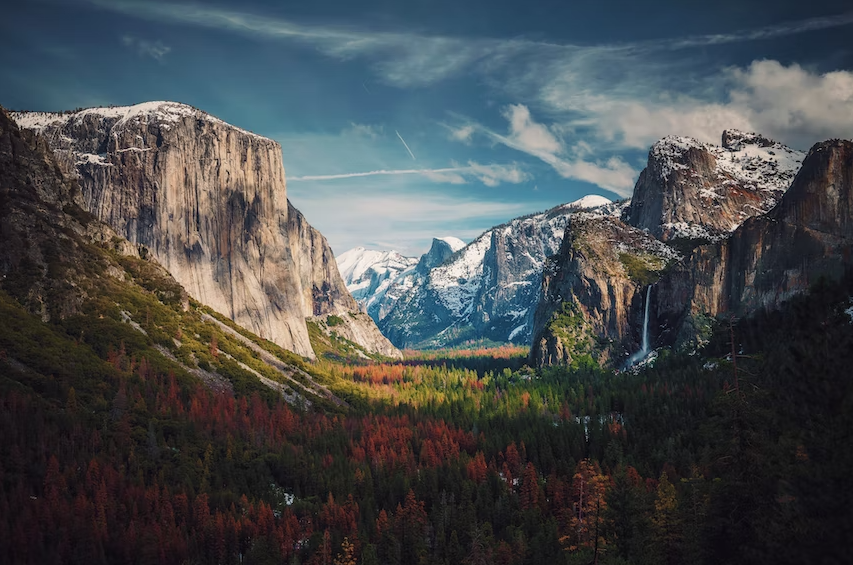 Yosemite National Park is a protected area located in the Sierra Nevada mountain range of California, USA. Established in 1890, it is one of the oldest national parks in the United States and is known for its breathtaking scenery, diverse habitats, and rich cultural history.
Yosemite covers an area of over 1,200 square miles and includes several distinct regions, including Yosemite Valley, Tuolumne Meadows, Hetch Hetchy, and the Mariposa Grove of giant sequoias. The park is home to an array of iconic landmarks, including El Capitan, Half Dome, Yosemite Falls, and Glacier Point.
Yosemite is also home to a diverse array of flora and fauna, including black bears, mountain lions, deer, and numerous bird species. The park offers many recreational activities such as hiking, camping, rock climbing, and fishing, and provides ample opportunities for visitors to connect with nature and experience its beauty.
In addition to its natural beauty, Yosemite has a rich cultural history, with evidence of human habitation in the area dating back thousands of years. Today, the park attracts millions of visitors each year and remains a beloved destination for nature lovers and outdoor enthusiasts.
Here's a suggested itinerary for a five-day trip to Yosemite National Park:
Day 1:
Arrive in Yosemite Valley
Visit Yosemite Falls and hike to the top (7.2 miles round trip, strenuous)
Explore Mariposa Grove, home to hundreds of giant sequoias
Day 2:
Drive to Glacier Point and take in panoramic views of the park
Hike the Four Mile Trail (4.8 miles round trip, strenuous)
Visit the Ansel Adams Gallery to see his famous photographs of Yosemite
Day 3:
Take a scenic drive on Tioga Road to Tuolumne Meadows
Hike to Cathedral Lakes (6 miles round trip, moderate)
Visit Olmsted Point for more breathtaking views
Day 4:
Visit Hetch Hetchy Reservoir, a picturesque lake surrounded by granite cliffs
Hike to Wapama Falls (5 miles round trip, moderate)
Visit the historic park museum at Hetch Hetchy
Day 5:
Take a leisurely hike to Mirror Lake (2 miles round trip, easy)
Visit the Yosemite Valley Visitor Center to learn more about the park's geology, history, and wildlife
Depart Yosemite
Note: This itinerary assumes that you have your own transportation and are in good physical condition for hiking. Make sure to check the park's website for trail conditions, as some trails may be closed due to weather or other reasons.
Related Article about Yosemite National Park:
– Crowds in Yosemite Summer 2023