April 24, 2013
Just in case you were wondering what the next thing will be in ugly footwear now that Crocs and Ugg are all played out. Let us introduce you to Crosskix. If their Kickstarter campaign is successful, you'll be seeing these ugly things on a trail near you.
April 24, 2013
Took a couple of months off to recharge the batteries. Time to get back into the swing of things. Like writing good cliche filled blog posts. Lets start with something easy. A surf movie trailer. Cannibals. Ladies in bikinis. What's not to love?
December 20, 2012
Every couple years we like to check in with Dale, who for the last 37 years has surfed every day. On November 24th, his birthday, he had surfed for the 13,598th consecutive day. Either he's got a really bad case of obsessive compulsive disorder or he just loves surfing. Kind of makes it hard to vacation anywhere outside of the coasts with this kind of hobby. Via
Surfy Surfy
.
December 19, 2012
Funny episode in the world of social media. Seems Tony Hawk posted this picture of himself skating in his backyard skate bowl on Instagram. Only to be bombarded with criticism for riding with no helmet. His response?
"For those that say I endanger my child: it's more likely that you will fall while walking on the sidewalk than I will while skating with my daughter."
Classic. Via News.com.au.

December 18, 2012
Beats by Dr. Dre are a case study in how excellent marketing and brand building can build a global phenomena out of a mediocre product. Kind of like Lance Armstrong or Ed Viesturs. For the price, we can't think of a more over-priced, over-hyped product. Particularly given the same sound quality can be found in headphones at a fraction of the cost. Nevertheless, anything Beats related is probably marketing gold, so it makes sense that POC came out with a helmet with integrated Beats. And for about $300 you can have buy yourself one. Or you could just be smart about it, put a Beats sticker on your ear cover and use your perfectly decent ear buds to get the same sound quality. And still be the cool kid on the slopes.
December 17, 2012
A Mountaineer Nutcracker? Com'on now, you know you kind of want one. A must have for the mountaineer that has everything. Get it at Eddie Bauer. December 14, 2012
This video of triathletes trying to crest the infamous Westernport Wall  in the Savageman Triathlon is satisfyingly amusing. But lets be honest, we probably couldn't even walk up a a 31% grade hill, let alone ride up one after swimming two miles.
December 12, 2012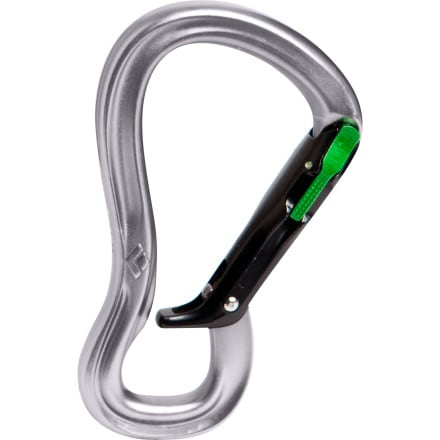 BD's new locking carabiner, the Black Diamond Magnetron GridLock Carabiner, uses magnets instead of the rather more tedious screw down sleeve that carabiners have used for ages. Seems to be the hot item of the season for the climbing aficionado in your life. 
The most revolutionary belay carabiner in a decade.. Featuring Black Diamond's new magnetic locking mechanism, the Magnetron GridLock carabiner brings a new level of ease and safety to belay-specific carabiners. This unique gate design doesn't freeze in the winter and doesn't clog up with sand and dirt the way a screwgate does. In addition to the one-of-a-kind gate, the Magnetron GridLock also has a separated bottom and top so as to completely eliminate the chances of cross-loading, because this is one piece of gear that absolutely cannot fail. To further ensure that its safety, Black Diamond hot-forged this carabiner to make it as tough as it can be. As a final touch, this carabiner also got a keylock nose to eliminate snags when you're taking your friend off belay.
December 5, 2012
Funny post on Uptown Almanac the other day featuring a flyer promoting a bike theft workshop put on by Google, SFPD (they blamed SF Bike Coalition for the silly graphic), and the SF Bike Coalition. The irony of  the flyer is that it features a bike graphic showing how to incorrectly lock up your bike to deter thieves. Mostly because it employs the use of a cable to lock both the front and back wheels. Any self respecting bike thief can easily cut through those cables with a cable cutter, so not only would you lose your front wheel, but the second most expensive part of the bike after your frame, the back wheel. We can attest to that, one of our employees' bikes was just liberated of its back tire on 5th and Market, one of the busiest, most tourist traveled locations in SF. What's the best way to lock you bike? Through the wheel and rear triangle of the bike. So says Sheldon Brown, the de facto expert of all things bicycle on the interwebs.  
December 3, 2012
We saw this puffy down-filled blazer from Moncler and thought it was too ridiculous to pass up. Perfect for the fur crowd at Telluride and Vail. And if you have $2,468 burning a hole in your pocket, perhaps perfect for you.